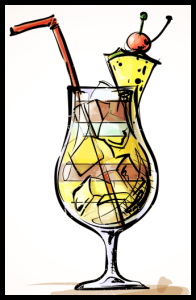 Description:
Similar to a Painkiller.
Ingredients:
2 oz Rum Tropic White Rum
4 oz Pineapple Juice
1 oz Orange Juice
1 oz Rum Tropic Coconut Cream Cord
Ground Nutmeg
Instructions:
Pour ingredients into a shaker with ice.  Shake well and strain into a tiki glass with ice.  Dust top with nutmeg and garnish with a pineapple wedge.